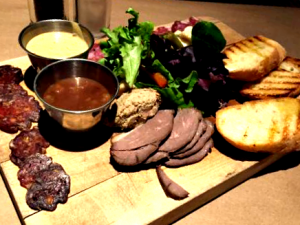 Charcuterie is the "IT" food!
As restaurant professionals we see food trends come and go each year and lots of articles and chefs that talk about what the next big trend is going to be! Recently an article was published titled "Goodbye Quinoa, Hello Charcuterie!" If you're not familiar with Charcuterie, it is; derived from a French word meaning, smoked, cured, or cooked meat and typically is accompanied by house-made mustard, marcona almonds, and pickled vegetables. However, they can come in many different variations, which can also include vegetables smoked instead of meats. However; meats are the traditional charcuterie plate. Chefs have predicted that the popularity of the charcuterie board will continue in 2017, with chefs using all parts of the animal to lower costs and avoid food waste, which can be very important in a kitchen.
Braddock's is on top of that trend offering our own version of a charcuterie plate. This can be enjoyed paired with a nice whiskey, cocktail or just by itself to enjoy. When you're not looking to fill up on dinner, but want nice flavor and small bites, a charcuterie board is the perfect option. Our Charcuterie plates include the following; cured meats, pâtés, pickled vegetables, caraway mustard, bacon caramel, crostini, and come in a half portion or full portion.
Want to give a charcuterie plate a try at home? Epicurois.com has tips to build your own, just like our chefs here at Braddock's!
HOW MUCH MEAT?
2 ounces of charcuterie per person.
MIX UP THE TEXTURES
A hard salami, and then something kind of soft and decadent like a pâté, something tangy like a more sour sausage, and then something warm.
GARNISHES AND CONDIMENTS COMPLETE THE PICTURE
Nuts for crunch. Mustard is always good with fatty sausage. And pickles.
GET SLICING
A good rule to remember with salami: slice it cold, serve it at room temp.
KEEP IT SIMPLE ON THE SIDE
 Serve it with just a baguette. Source Epicurious.com.