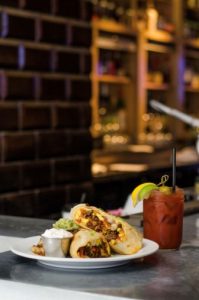 Braddock's Pittsburgh Brasserie, Pittsburgh, PA
The best Black & Gold brunch in town!  Our Kegs & Eggs celebrations have quickly become a favorite game day destination.  Join us for the last home games December 4th, Christmas Day & New Year's Day for the remaining Kegs & Eggs events as we shine black & gold bright with local beers (from a real tailgate!), bloody mary bar featuring local Wigle Whiskey and Boyd & Blair, and a decadent brunch buffet including a daily selection of cured meats & pates with house pickled veggies.
The key to any fabulous fete?  The FOOD, of course!  Kick off the New Year on a culinary high note with our decadent multi-course New Year's Eve menu.  The festive menu promises a celebration in every bite, offered in the grand setting of our dining room.  Make it a Happy New Year, Braddock's-style!  Call for Dec. 31st details and reservations: (412) 992-2005.